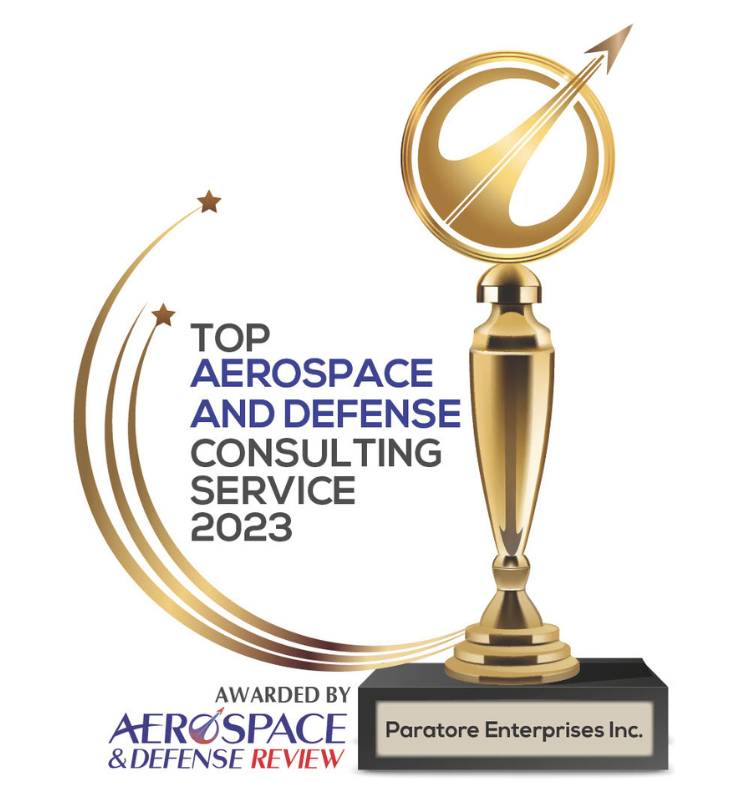 2023 Industry Recognition
In 2023, Aerospace and Defense Review recognized us as one of the "Top 10 Aerospace and Defense Consulting Companies."
In their review, relationships remained our biggest advantage over the rest. We explained how we made it our biggest asset, "We build relationships of trust by sharing feedback from end users like our warfighters, law enforcement officers, and first responders with our clients, helping them create the best and safest products."
Thank you Aerospace and Defense Review,  our amazing clients, and our colleagues in this exciting and important industry. We hope to continue being part of your success.
2021 Industry Recognition
In 2021, Aerospace and Defense Review recognized us as one of the "Top Aerospace and Defense Consulting Companies."
In their review, they attributed our success to the following: "What's different about Paratore Enterprises is the three-tiered relationships they possess: with worldwide manufacturers, a vast reseller network and end users in multiple verticals." Pretty spot on.
A great big thank you to the folks at Aerospace and Defense Review and to everyone we have worked with over the years. We hope to keep living up to your expectations and beyond.
Read the entire review below.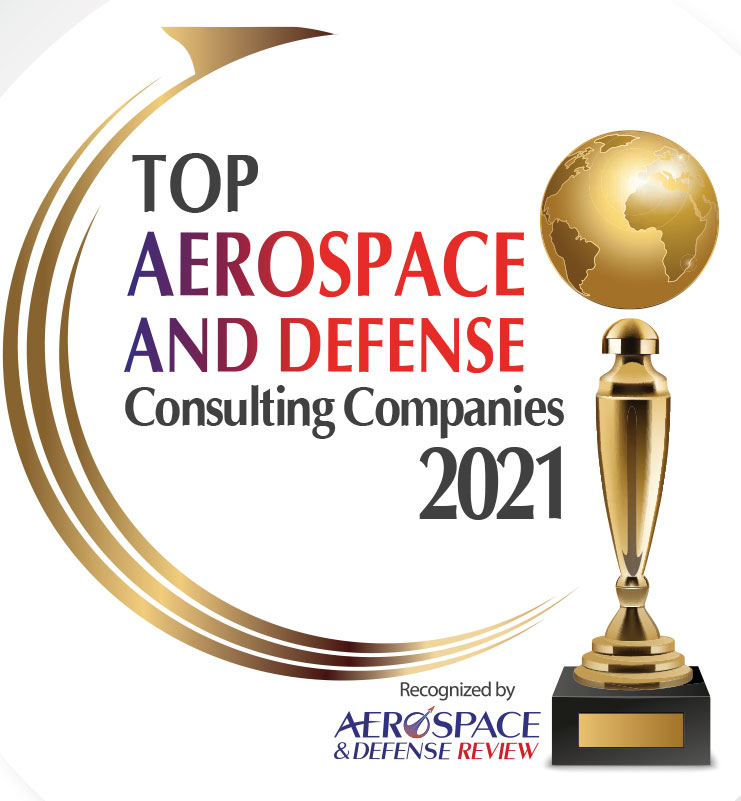 Ensuring Success in the Defense and Tactical Space
Paratore Enterprises
Manufacturers and organizations, whether they be US or foreign, are always looking to expand their client base. The largest client in the world is the US government, whether it be the Military, the Federal law enforcement agencies, OGA's or state and local governments.
With these government contracts, businesses can reap a variety of benefits, including reliable income, consistent work, and a positive reputation among current and prospective customers. However, securing a government contract is no easy feat and the process of winning a federal contract can be painstakingly long, overwhelming, and certainly complicated.
As both opportunities and pitfalls are massive in this field, competing for government contracts needs not just business acumen but years of experience working with federal and state agencies. With over 70 years of experience working in defense and law enforcement distribution in various capacities, Paratore Enterprises helps manufacturers and companies access the U.S. federal government and law enforcement space throughout the country. What's different about Paratore Enterprises is the three-tiered relationships they possess: with worldwide manufacturers, a vast reseller network and end users in multiple verticals. With 70 years of experience, Paratore Enterprises provides organizations with the know-how to sell their products to the U.S. government, military, law enforcement agencies, and OGAs.
"We go beyond the scope of a regular consultancy and become an extension of our client's sales, marketing, product, and engineering teams. We help them demonstrate their product to government organizations, represent them at various trade shows, and visit government agencies on their behalf," mentions Dalia Paratore, President and Founder of Paratore Enterprises. Dalia brings years of expertise in helping companies with professional development, industry best practices, communicating brand/content and messaging, and improving outreach. Paratore Enterprises brings all this experience to bear in all its client interactions, helping them achieve their goals.
Paratore Enterprises understands that accessing government contract vehicles and resellers can be challenging. As such, the company helps its clients sell their products faster and easily by building appropriate reseller networks consisting of dealers, distributors, and wholesalers. Paratore Enterprises also develops communication strategies for its clients, supports their marketing initiatives, and increases brand awareness through white papers, social media, and PR. Paratore Enterprises also assists foreign organizations that are looking to enter the U.S. market by providing them with the necessary guidance to navigate the landscape.
"In order to understand the requirements of prospective clients, we communicate with them extensively before onboarding them," says Chris Harrison, Vice President of Paratore Enterprises. Through a collaborative approach, the team at Paratore Enterprises ensures that their clients get better returns on their investment. During the initial diagnosis phase, the team ascertains the client's goals and identifies their pain points to determine the strategies to address them. By creating a holistic sales strategy, training, product development, and building vendor relations, the company works collaboratively with its clients analyze their needs as well as help them collaborate with other manufacturers if needed. During the second phase, Paratore Enterprises focuses on assisting clients with sales and branding to deliver better business outcomes. In the final phase, the company helps clients implement the playbook built during the initial two phases. Harrison remarks, "In addition to performing SWOT analysis, root cause analysis, and tailoring a roadmap and playbook for our clients, we also help to implement them."
In one instance, Paratore Enterprises helped an international defense contractor dealing with body armor to expand their footprint in the U.S. market. Dalia recalls, "Through our competitive analysis, the client realized that securing government contracts in the U.S. is very different from what they had assumed." Paratore Enterprises then came up with a detailed plan that included strategies for sales engagement, market penetration via reseller network inclusion, product positioning, product launch, product demo and sales training. With the help of Paratore Enterprises, the client won an $11 million government contract to sell their products through an extensive reseller network in the U.S and is on their way to securing larger contracts.
Such success stories stem from the expertise that subject matter experts at Paratore Enterprises bring to the table. Harrison holds extensive experience in the defense and tactical industry with high-level knowledge in the firearms, lasers, training, tactical gear, body armor, EOD gear industry. The company employs highly knowledgeable professionals in the field of chemical engineering who have an in-depth understanding of composite materials that are used to manufacture body armor. The team also consists
of an electro-optics technology expert who specializes in sniper and long range weapons, training, and best practices.
For the future, Paratore Enterprises plans to expand its business by supporting more organizations, whether US for foreign, looking to position themselves in the U.S. market and win contracts with the federal government. The company also plans to hire new talent to facilitate its three-phase program and accomplish its objectives. "We work with companies that have complementary product lines so that they augment each other's capabilities," says Dalia.
 – by Aerospace and Defense Review